Something that many fashion conscious men struggle to effectively deploy is eccentricity. Too often it is the case that a pair of yellow shoes or purple corduroys ruin a perfectly good outfit. Such bids are often attempts to stand out from the crowd, but it takes a great deal of style and confidence to execute well. Those who can do so are few in number, but amongst this rare caliber, is Lapo Elkann.
Elkann is the current manager of brand promotion at Fiat. His grandfather, Gianni Agnelli, pioneered the Fiat empire, as well as being a renowned style icon of his time. His grandson has continued both these traditions, being one of the masterminds behind the contemporary Fiat 500 model, and arguably one of the best-dressed men around.
His style is a combination of solid, stylish Italian tailoring, and bold, extravagant flamboyance. Upon mixing the two, his very unique fashion sense has come to surface. Upon the passing of his grandfather, Lapo inherited his vast collection of suits. He had them tailored to his specification, and is often seen sporting wide lapelled, double-breasted suits in bold blues, checks and pinstripes.
It is the excellent fit of his clothes that really pulls his style together. If the above suits were not so well tailored, he would look boxy and shapeless. By having them closely fitting, a contrast is drawn between the wide lapels and slim cut, which is very rare to see.
Not to be satisfied with mere elegance, Elkann employs splashes of extravagance through excellent accessorising. He often wears suede or leather tasseled loafers, keeping in line with the slim cut of his suits. He is known to wear boldly coloured glasses, adding splashes of red and electric blue to his outfits. Not to restrict his eyewear to spectacles, he is a frequent wearer or sunglasses, favoring large, tortoiseshell frames. He is also rarely seen without a pocket scarf residing in the breast pocket of his suit jacket. The attention to detail he displays is immaculate, whilst expressing a huge amount of personality.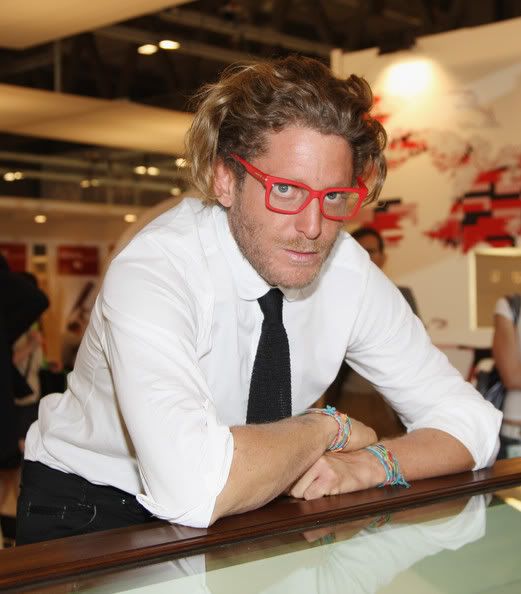 Here are some pieces Lapo Elkann would be proud of:
The very unique style of Lapo Elkann can therefore be seen. Not one to emulate half-heartedly, this very stylish, very European look is carried through by an abundance of confidence. He doesn't look like he's trying too hard, although the quality of his clothes suggests he's certainly paying attention. One of the great factors about this man is that his style cannot be copied or ripped off; it is very much his own style, which is exactly how it should be.
Oliver Midgley