Men's hair trends are booming, with endless possibilities and more variation on the catwalk than ever before, no matter what texture, colour or hair type you have, there is most definitely a number of options for you.
The Textured Top Hairstyle
The textured top hairstyle is a fresh look that works for a wide range of hair types. The most popular hair types for this style tend to be coarse hair with plenty of body, fine hair but plenty of it and natural curls. This style is better suited to men who already have quite textured locks.
This style was a popular choice at this year's Fashion week in Paris as it doesn't distract from an outfit – but can really finish off a stylish look perfectly – remember your hair as much of an accessory as a watch or pair of shoes. Another great aspect of this hairstyle is that it works well with almost any face shape. It requires some maintenance and styling requirements but overall this is a hairstyle which isn't going to have you spending hours in front of the mirror every morning.
In terms of the cut, the key with this hairstyle is to have the top looking effortless as the top will often style itself with little to no work. The length on top should be even, with no real length on the fringe. Partner the textured top style with a high fade, a short back and side or even a severe undercut. Speak with your Barber in terms of the cut, and don't be afraid to show them photos for inspiration.
When it comes to the styling, discuss with your barber about the best products for your hair specifically. The most common styling product for this hairstyle is a light hairspray, something that will hold your hair but won't weigh it down and result in a loss all that natural texture. Remember to only apply a small amount, with a focus on the textured top less is often more with this style, it's very easily to rework a little too much.
The Buzzcut
This became increasing popular in 2017 and has continued to gain momentum this year. Probably the easiest hairstyle for any man to manage with virtually no grooming necessary! However, this style isn't for everyone, the buzz cut tends to work better with men who have a rather angular face.
Men with wide set jaw lines – seem to carry this classic, minimal style really well.
Traditionally, the buzz cut was a simple very short cut with little to no styling, almost military-esc, don't assume that with this cut that this is your only option! This style can be easily paired with a fade, a part, a colour or/and defined facial hair. The buzz cut can be as short as anything from a 1 to as long as a 4 any longer than this and style becomes more of a crew cut.
Have a good chat with your barber before you commit, they should be able to offer you options on the optimum length that will suit you best. Another key thing to remember about this cut is with it being so short – the edges and finishing touches are probably more important here than ever before here.
Styling wise – there really is little to none as you can imagine! However, if you go short short – remember your scalp with probably be open to the elements so look after it as you would any other part of skin in terms of moisturising and sun protection.
Although there is less choice regarding styling in order to put a little twist of personality into this cut it has been paired with a colour or simply tone change. Platinum tones most recently have been shown to be really effective on this cut. For inspiration look at Kanye West, Zayn Malik as well as Fashion week shots from Milan for designers Sartorial Monk, Daks & Dsquared2.
Sweep & High Fade Haircut
Fairly similar to the textured top but with a lot more length. The high 'short back and sides' are back with an absolute vengeance after Tommy Shelby and his brothers made every man want to be them and every woman want to be with them.
This sleek style is a playful mixture of the longer – 'heart throb, I just run my hands through my hair' look paired with the defining contrast of a high fade. Depending on your hair type this style can be low maintenance. The most idealistic hair would be medium thickness and either straight or wavy as this type of hair tends to have a natural tendency to stay in place due to its weight. However, if your hair is curly or a little fine then this style is still possible for you with the right cut and the right products.
This style was another very popular style seen on the Parisian catwalks this year, so if you're looking for inspirational photos you will find plenty! Take them with you and discuss with your barber. They should be able to not only find the best cut for you to achieve a good sweep catered specially for your hair type but also the level of fade to go with it.
Length and hair type depending you could need different types of products for this style. Finer hair could work well with a light hairspray, whereas coarse hair could require a medium hold wax. The key with this style is the 'sweep' effect – you want it to look as though the hair is almost holding itself in place, too much product could lose this effect. For those of you with curls – you may want to use a products specific for curly hair maybe something like aa styling cream with a good hold. You don't want to lose your natural curl as this will aid the style hold in place if you have worked the front right.
Hairstyles for Men with Long Hair
1. Slick Back
For guys with medium-long locks, the slick back look is as easy to achieve as it is suave. A more undone alternative to a bun or pony, the slick back works as well with a tailored suit as it does with streetwear. For fine hair, a high-shine look is optimal and can be achieved by raking fingers through clean hair using a medium hold wet-look gel. Guys with curly or textured hair can also rock this look by sweeping the front section of hair back with a pomade or mousse for greater hold. Curls can be left largely intact, or broken up slightly for a more worn-in feel.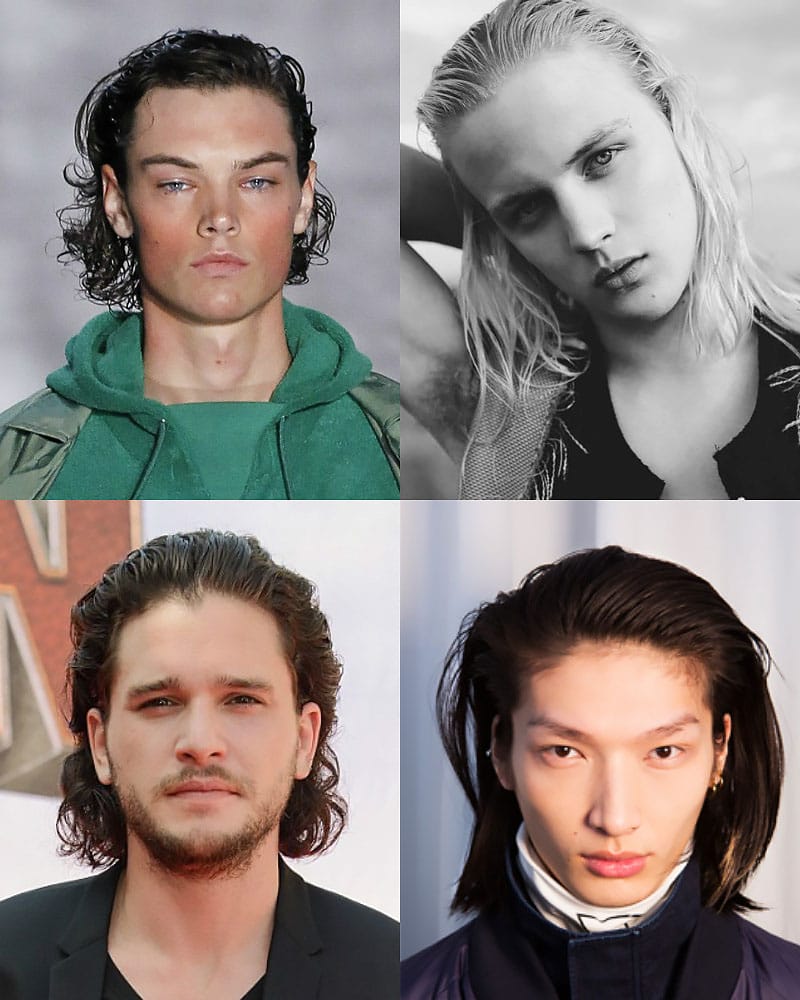 2. Ponytail
For those in-between days or for the man at work, a pony is an easy and quick way to style long hair. Pulling hair back with a drop of serum to ensure maximum shine, one can either conserve the natural part or pull hair directly back for a slightly more dishevelled appeal. Tying the tie over twice or three times for hold and comfort, the world is really your oyster in terms of slickness for this look. To stop the look from feeling too restrictive or severe, leave a few strands near the front to fall by the face or be tucked behind ears.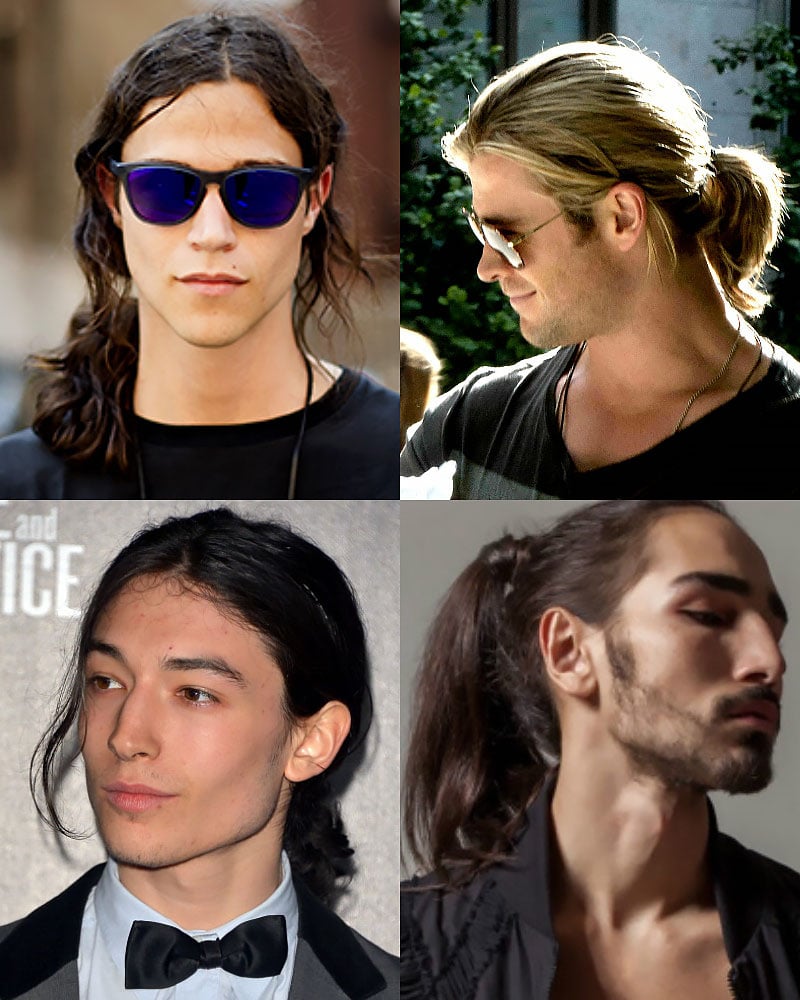 3. Long Textured Waves
This down-and-out style is all about texture and dimension. Popularised by Harry Styles, the look features a deconstructed pompadour and waves of a medium texture and density. This look is wearable for almost any face shape but is best suited to those with some natural movement and a layered cut. To replicate, apply a styling mousse to clean damp hair, scrunch liberally and either leave to air dry or dry with a diffuser directing the front section of hair backwards. Then once hair is almost completely dry, take the front section and lightly backcomb before setting with a flexible hairspray. With a playboy appeal and youthful vitality, this is the hair of heartthrobs. If you need volume you may consider a hair extension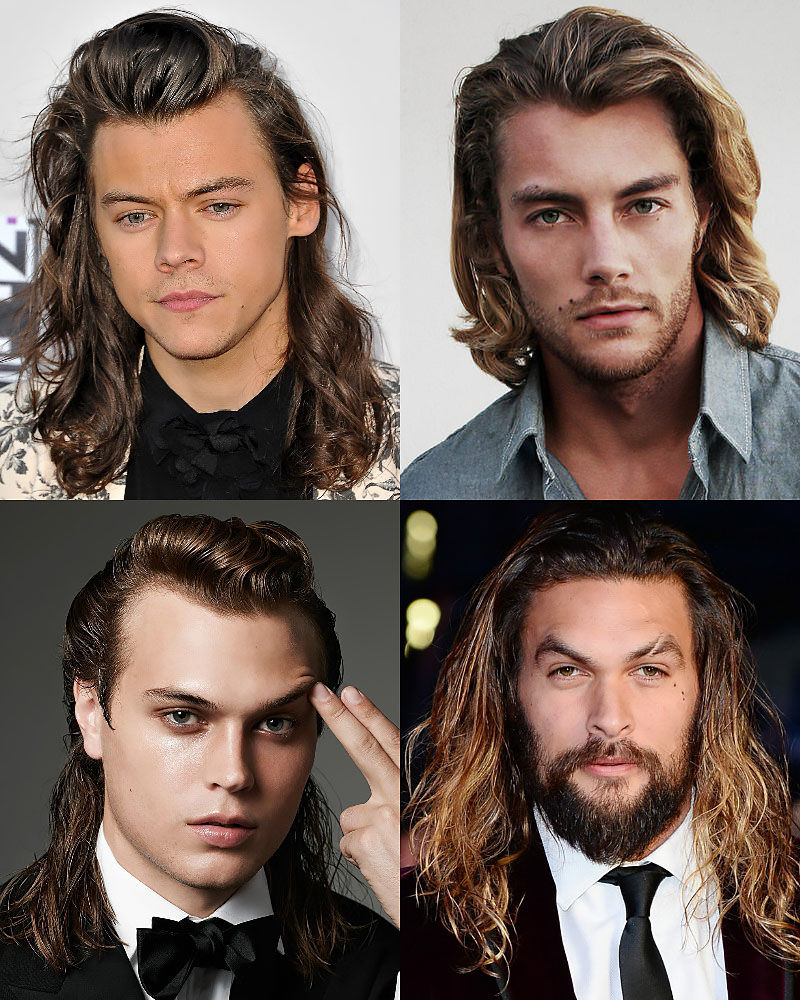 TOP PRODUCTS
4. Man Bun
A modern classic, the man bun isn't going anywhere. As versatile as it is current, buns are universally flattering and can be altered and customised according to face shape. Comb hair back with fingers and secure with a tie, allowing some tips to stick out for a relaxed appeal. The length of your hair will determine how high or low you can wear your bun, but for best practice aim for just below the crown of the head, with some hair at the nape of your neck curling free. While guys with defined bone structures are able to wear the look as slick as they like, for the most part, a looser bun is most flattering. For an artfully messy man bun, slide the end of a comb underneath the top to loosen sections of hair around the face slightly.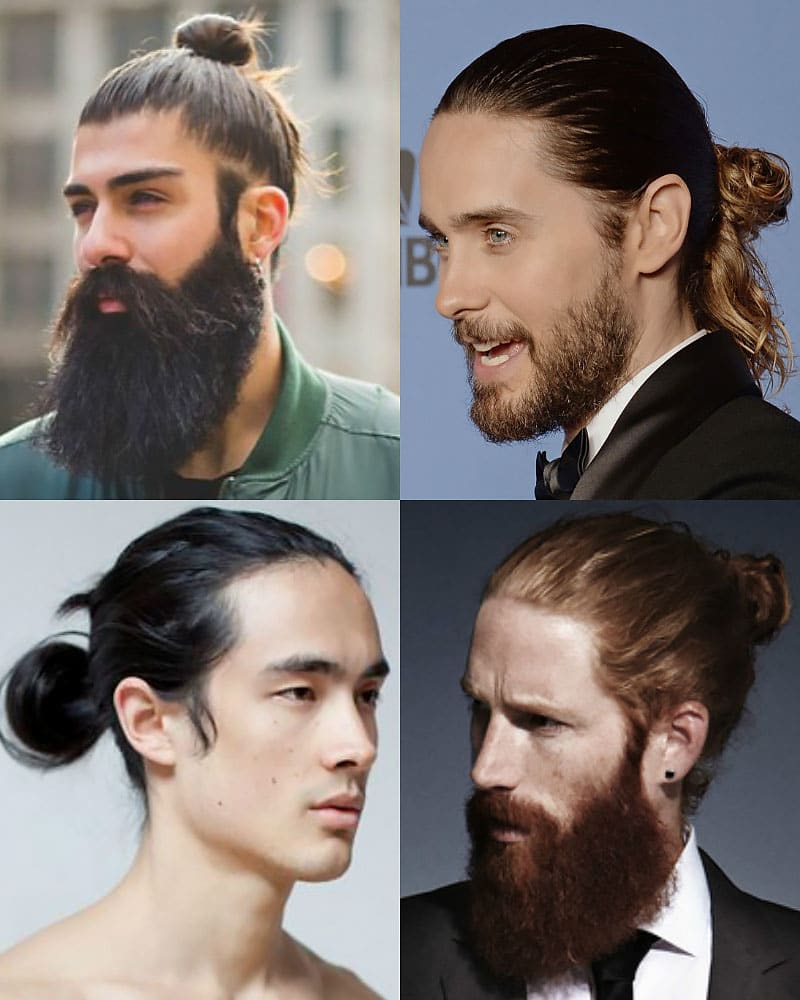 5. Long Hair with Part
A crisp part can be incredibly striking on a long mane. Centre parting is best left to the symmetrical and those with straighter hair. To get an arrow straight part, take a fine-toothed comb to freshly washed hair and draw a sharp line from the centre of the hairline directly back before running fingers through ends with a drop of serum. An option for guys with softer features and more textured hair is an indistinct side part. Guided either by a natural cowlick or preference, sweep the larger section of hair to one side and train it to stay in place by tucking it behind your ear. To create extra hold, use a dry texturing spray on the roots and define the part near the face with a loose hold wax — ultimately, however, this is a style that is best worn with a little movement, so tread carefully.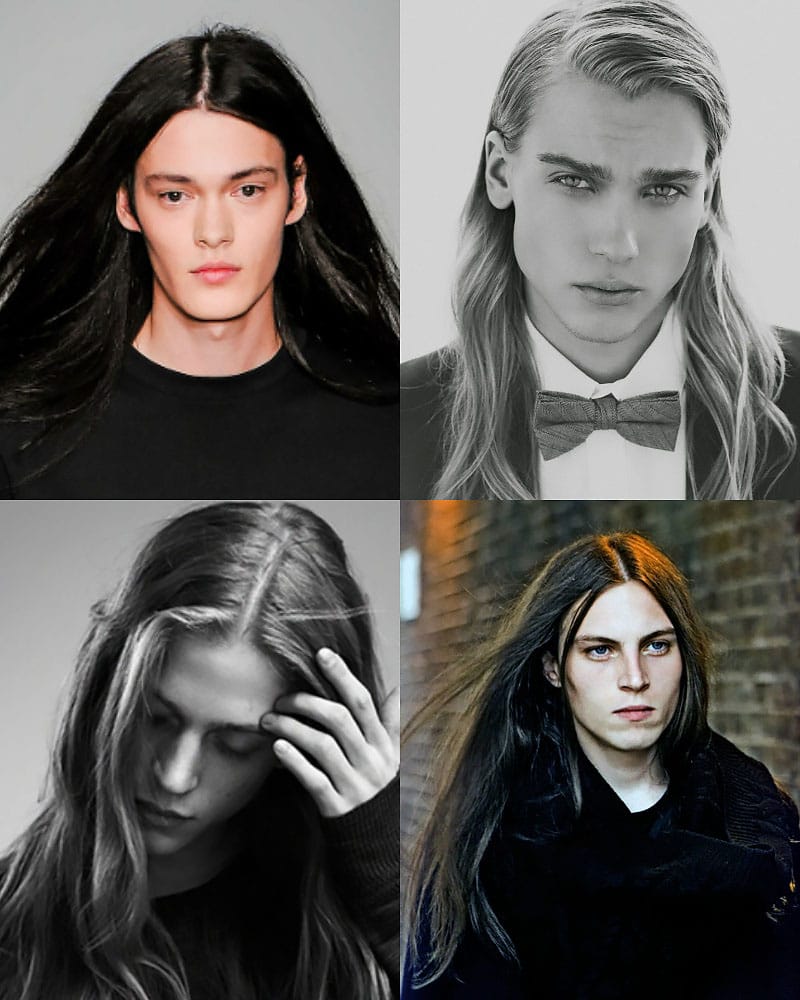 6. Half-Up
The drama of loose hair meets the sleekness of a man bun. With jawline and neck completely visible you're scoring serious points with the ladies and keeping hair off your face – a win/win. A mainstay of the long-haired man and recently put back on the map by Chris Hemsworth in his turn as Thor, when worn with longer strands this look is most striking. For the half-up, pull the top third of hair back into a tie and loop over into a knot, allowing some movement by not securing too tightly. Most androgynous with day-old hair, keep the look devil-may-care by working some dry shampoo into the roots and spritzing ends with water or sea salt spray.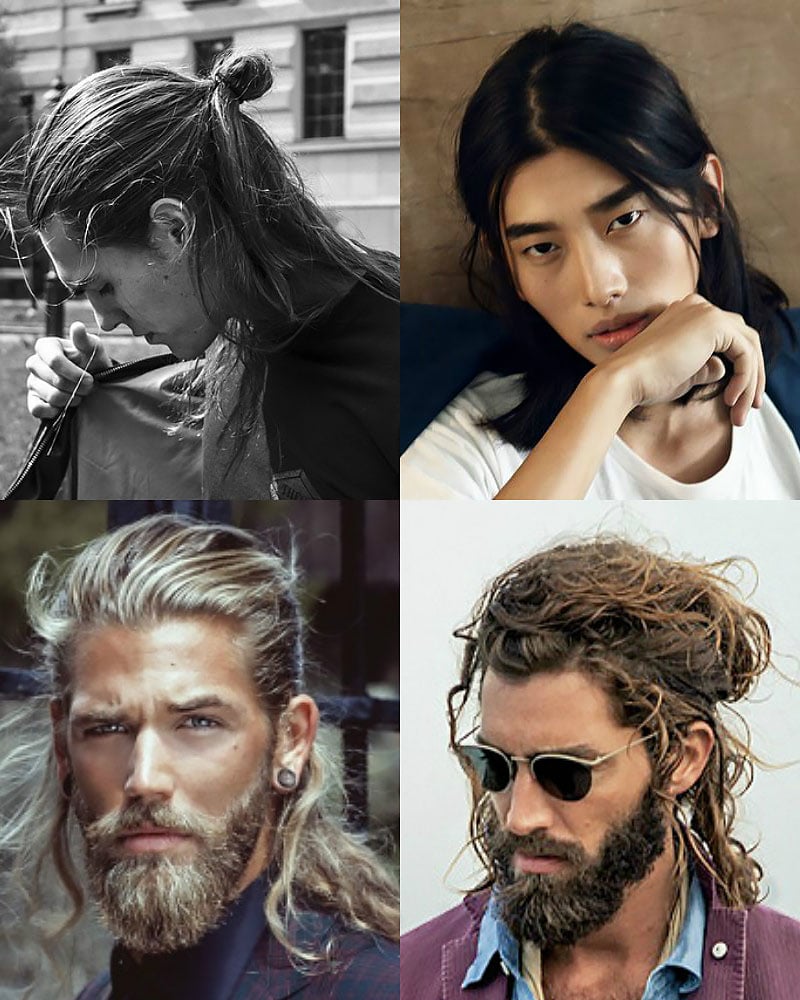 The Hard Side Part
A hard part has been most frequently seen with short styles and a strong fade. A side part can give shape and definition to most styles and is most definitely a good one if your hair is quite unruly to give it a defined set.
Ideally, if you're looking for a very polished neat look then the nearer to straight or wavy your hair is, the easier this effect will be to achieve. Whereas with curlier hair it can be more difficult to position in curly hair as your natural part might not be apparent. Whatever your hair type, probably the most important starting point for this style will be your length of choice. Make him aware that you are considering a hard part at the beginning, it's not really something they can throw into any cut at the end. Even with a hard part there is lots of variations in style so discuss them before you begin.
Going for the hard side part can ensure less need for styling and enable your hair to fall into place easier than with a natural part, however a good hairdryer and a lightweight hair product like a hair creme or spot of wax will just help you tame that morning bed head. Strangely this style can often allow for you to use a little more product as it naturally serves as a more polished look.
The Pomp Hairstyle
Almost a happy medium between the sweep back top and a textured quiff. This contemporary favourite has become pretty timeless.
The most popular cut for a Pompadour hair cut this year seems to be again with a fade – yes, those iconic short back and sides are back for more.
However, you can even work this style with a slightly longer textured top and even a medium length style with no fade at all – this is probably one of the most versatile hair trends this year that works with a range of styles and lengths.
For Pompadour inspiration take a look at the likes of Zac Efron, David Beckham and Justin Timberlake as these guys have rocked a pom for some time now and have all worked the look at different lengths! When speaking with your barber you want to ask for the best way of getting the full effective of pom with the curve on top, take note on how he styles it once the cut has been decided so you can achieve the same look once you get home.
When styling this look you want to sweep your hair in the natural direction that it tends to want to fall, that way you'll achieve more of an effortless shape. Use a hair dryer to aid the hair to fall right and set with a good hairspray or a wax – depending on whether you want effortless or super sleek. Work the product in bit by bit to avoid over doing it.
Your Hairstyle In 2018
So there we have it, 5 men's hairstyle trends for you to think about in 2018.
As with any trend, they come and go. But with some of these hairstyles, they've been popular for the past few years.
Let us know in the comments what hairstyle you're going to be rocking in 2018?
Don't forget to share this article too, especially with people who need a new haircut!