This post was originally published on Paul's Blog.
One thing I learnt about style is we often overcomplicate it.
It took me a good few years to really get my style to a point I was happy with it.
I made mistakes, bought the wrong things and often tried to emulate the wrong people.
When I finally became happy with it, and when others started to ask for advice, I realised it can be broken down into a few simple principles.
These transformations didn't happen over night, but it would have been a lot quicker if I would've just focused on this 5 changes.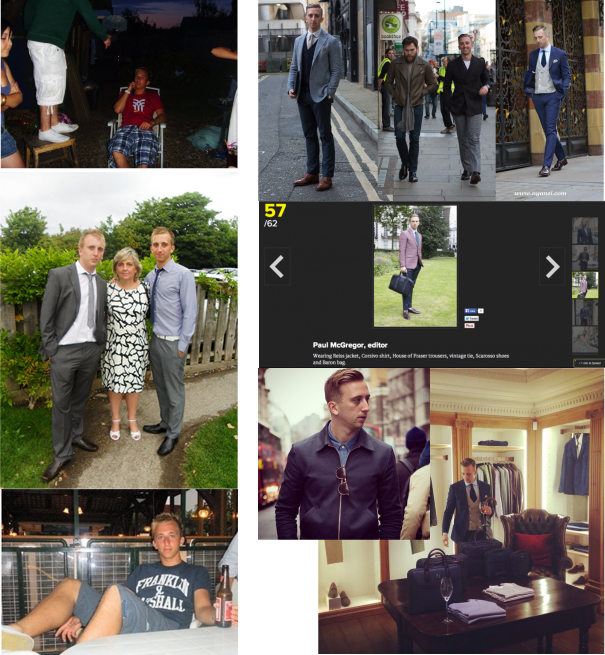 If you apply the 80/20 principle, 20% of the things you do to your appearance will create an 80% improvement.
So if you want to improve your style, why not focus on the small changes that make the biggest impact?
1. The Fit
Hands down the fit of your clothing is the number 1 thing you should focus on.
I could buy a $10,000 suit from Gucci and a $200 suit from H&M. If that Gucci suit was ill fitting, but the H&M fitted perfectly the $200 suit would look better than the $10,000 suit.
How clothes should fit is something you need to learn, there's a little bit of theory behind it, but once you know the basics it gets super simple to apply to every item of clothing you wear.
In a nutshell, the less excess fabric the better. There's a fine line between too loose and too tight and a lot of it comes down to personal preference but your clothing should essentially 'skim' your body.
If you're wearing a dress shirt and I can grab a handful or two of fabric then it's too loose. It needs to be tailored to be more slim fitting.
Bad Fit vs Good Fit
Here's an example of something that's ill fitting compared against a good fitting suit…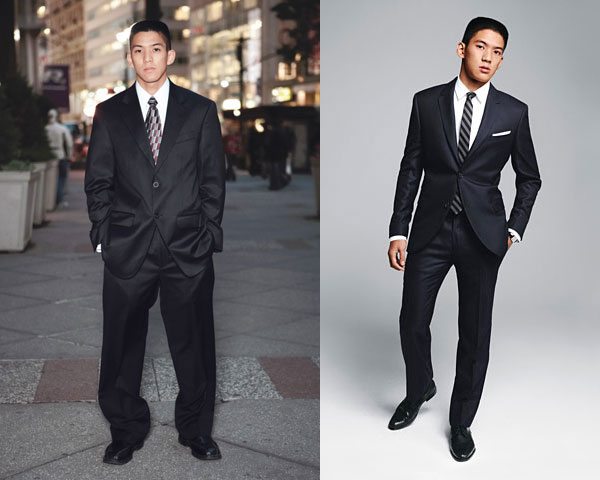 Of course it's slightly over exaggerated but you get the drift. Same guy, similar outfit, different fit.
I'd always start by learning how a suit should fit because the rules can be carried through to your casual attire as well. For example on your trousers the waist should fit without the need of a belt and they should break just below the top point on the back of your shoes. The same would then apply for jeans, chinos and so forth.
In terms of making sure your clothing fits you have 3 options.
Go Bespoke
This is the more expensive option. You can get something to make your clothing for you. Suiting, knitwear, casual attire… you can get anything made bespoke to fit you.
You choose the style, the fabric, and the tailor will measure you up so it fits perfectly to your body.
This is of course a great option to have, basically designing your own clothing… but it's extremely costly.
Made To Measure
A step down from Bespoke but it carries similar advantages.
You can choose the style, the fabric, and customise your clothing as you want and the fit is based off a 'Master Garment'. Slightly more affordable than Bespoke but still quite costly.
Off The Rack & Altered
A much more affordable and practical way of getting your clothing to fit you is to buy from the stores and brands you normally do. Once purchased, see how it could fit better. Then take it to a local tailor or alteration service and get them to alter it to fit.
Personally I've tried all 3 options but I tend to use this one more for efficiency. I can buy something from a brand online, try it on, see how well it fits and then take it to my local Tailor to alter it.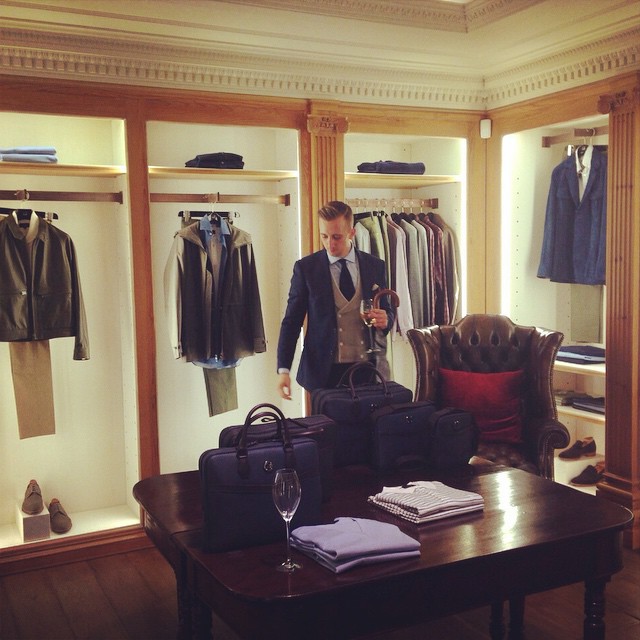 This suit I'm wearing in this picture, in fact the whole outfit is bought 'Off The Rack' and altered. It didn't cost much at all.
The cost for alterations really is minimal and it normally only takes a few days to be completed.
Try and find a local tailor, a local alteration service or even see if your family or friends are handy on the sewing machine. They made be able to alter for you.
2. Your Shoes
I helped with a video for MFM once where we asked women on the streets of London (sounds weird I know) what they liked on a man.
The most popular answer was confidence, but good shoes closely followed.
Wear a white t-shirt with a pair of jeans and some sneakers and you've got a casual outfit. Wear a white t-shirt with a pair of jeans and some Tan Brogues and you've got a smart/casual outfit ready for a drink at a Bar.
Invest in good quality shoes and you can instantly dress up an outfit.
Here are 5 shoes I recommend.
Subscribe To Paul's YouTube Channel
3. Keep It Classic
Look back to the Style Icons of the 1940s, the 1950s, the 60s… did they wear suits? Blazers? Denim? Chinos?
When you keep your style timeless it allows you to buy less, easily sustain a good style and most importantly put outfits together easily.
Timeless essentials are clothing that was on trend centuries ago and still is today.
A good Navy suit will never be off trend and it will always look good, the same with a white button down Oxford shirt, a pair of Brogues…
Buying timeless items alongside sticking with key colours holds a lot of benefits.
Sure, there's nothing wrong with on trend items or injecting some colour and print but your wardrobe should be built around timeless essentials.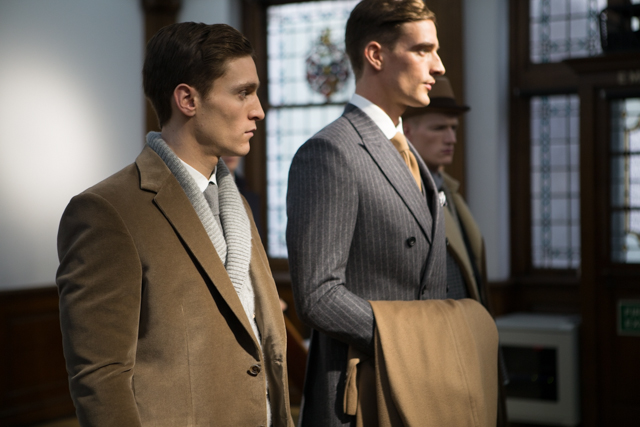 4. Wear & Buy Less
We often overcomplicate things as men.
We layer up too much, wear too many accessories and by overdoing it it has a negative impact on our appearance.
Wear less. Sometimes keeping it simple is the best thing you can do. As long as the Fit is on point, you're wearing good shoes and the items are of high quality you don't need to layer as much as you think you do.
You also shouldn't be buying a new shirt which is on Sale every weekend for your night out. A minimal wardrobe filled with timeless, well manufactured pieces trumps a wardrobe compiled with various bargains you've worn a few times.
Instead of buying a new shirt every month for £20 for the next year (£240 in total), buy 2 shirts at £100 each (£200 in total) that are better quality, are timeless and will last you longer.
5. Create A Subtle Statement
I've obviously spoken a lot about keeping it simple and investing in timeless pieces, but this doesn't mean you can't create a statement.
If you blend in with everyone else how are you going to stand out?
Create a subtle statement through accessories you wear and through layering.
A good watch can make a statement, alongside a pocket square or a good pair of shoes. A print or coloured shirt can again make a statement even when paired with more neutral colours.
Here's a few examples of creating a subtle statement.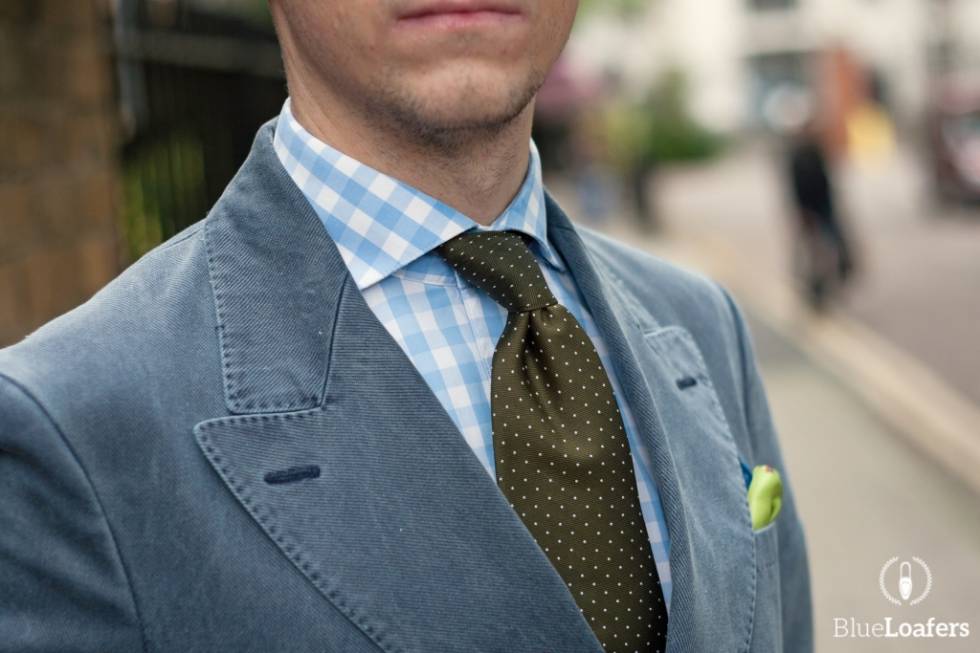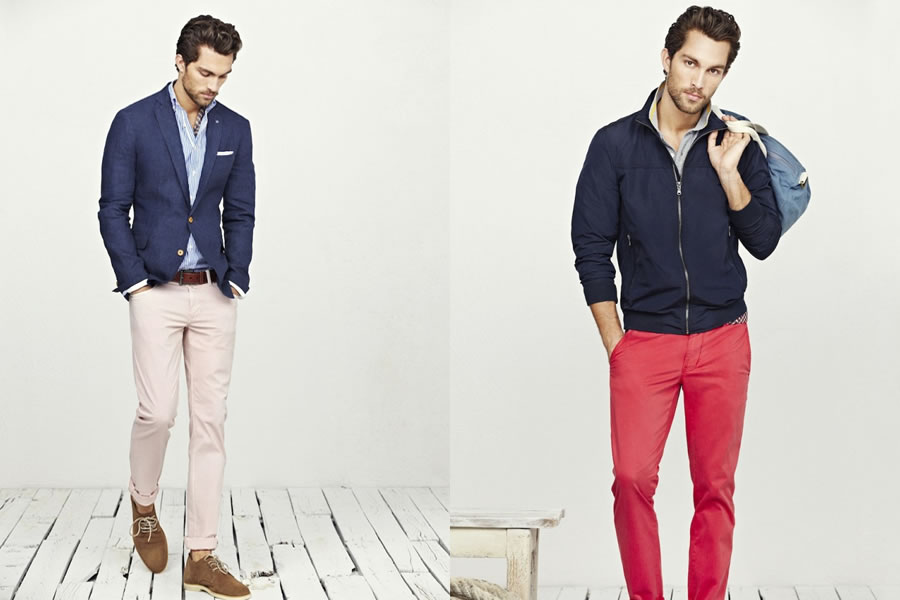 Photo by BlueLoafers.com and Mango Man
Put It On
So there we have it, 5 simple changes any man can make to transform their style.
Seriously… I spent years trying to improve my style. It shouldn't have taken me that long.
These 5 changes will help massively.
Comment below and let me know how it helped you.